FY 23 Regulations
You can obtain a FREE digital copy of the new Outdoor Recreation, Hunting and Freshwater Fishing Regulations by clicking the link below. Save the.PDF copy to your computer or phone for reference. A paper copy is available at our Natural Resources Office front desk. All Eglin Recreational Permit holders are responsible for knowledge of and compliance with the Eglin reservation statutes and regulations.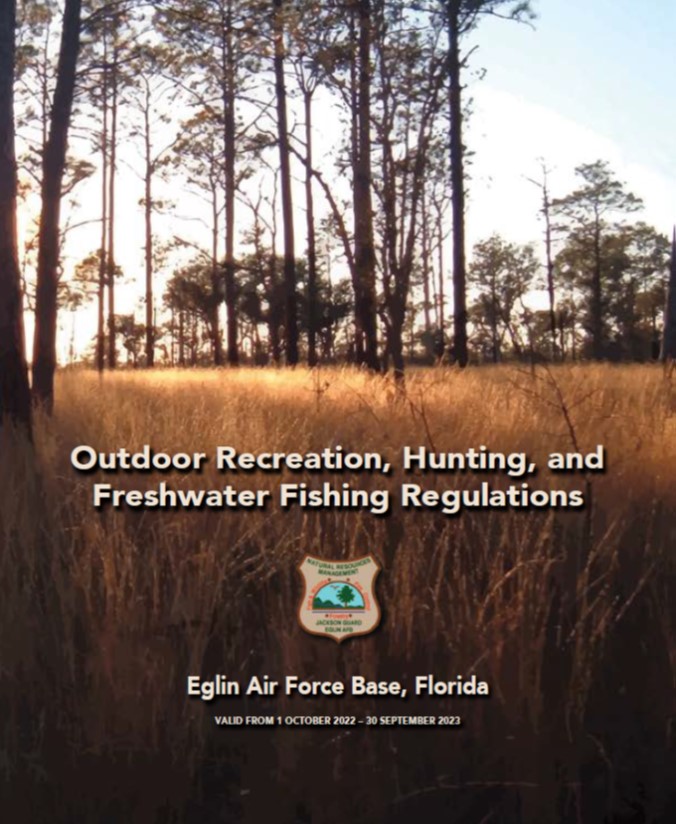 Outdoor Recreation, Hunting and Freshwater Fishing Regulations
The rules and regulations contained in the booklet are an appendix to AFMAN 32-7003 and are enforceable pursuant to 18 United States Code-Statute 1382, 10 United States Code-Statute 2671 (Florida Administrative Codes and Florida Statutes), 16 United States Code, and 50 Code Federal Regulation. Violations of these regulations are very serious.
In addition to penalties that may be levied under applicable state and federal laws and regulations, the Installation Commander has inherent administrative authority to revoke outdoor recreation privileges.
Reservation users please be aware that suspensions associated with NOVAAs are independent of federal criminal charges. NOVAA suspensions remain in effect even if a federal criminal charge is dismissed.