Santa Rosa Beach Portion
of the Eglin Reservation
Dogs are not allowed on the Eglin beaches.
The Santa Rosa beach portion of the Eglin reservation provides beach access to some of the most beautiful beaches in the US: powdery white quartz sand, sparkling aquamarine water, and gentle waves.
The Natural Resources Office DOES require visitors on the Santa Rosa Island beach portion of the Eglin Reservation to obtain a FREE Beach Permit. The permit is available online or at the Natural Resources Office. When you log into your account click My Safety Briefs and watch the video, then answer the three questions. Once you have finished the video and questions, the Beach Permit will appear under Available Permits.
Due to military testing and training on the Eglin reservation on Santa Rosa Island from Fort Walton Beach to Navarre Beach is closed to all forms of public access.
The Eglin Beach Park provides pavilions with restrooms and showers. Civilian visitors can walk to the pavilions and access the facilities. There is no drinking water provided at the pavilions, so you should bring your own. For more information about the Beach Park, please check the Eglin Force Support Squadron's website: Beach Park
Report animal harassment to the FWC Wildlife Hotline:
888-404-3922
---
Dunes
Visitors to Eglin beaches should be aware that walking over/behind dunes is prohibited. Dune ecosystems are extremely sensitive, foot-traffic erodes dunes by moving sand, creating trails, and damaging vegetation. Our beach dune habitat is the first line of defense against hurricanes and storms, and need to be protected. Cross dunes only on official paths. Beach sea oats and other vegetation around and on the dunes helps stabilize our dunes. This vegetation is protected and should not be picked or walked on.
---
Sea Turtle Nesting Season
Disturbance to protected species during their nesting season can result in failed nests, trampled chicks, or increased predation from coyotes that follow human tracks. Shorebirds travel extremely long distances to come to our beaches to nest, we want to provide a safe place for them while they're here. All wildlife on the Eglin reservation is protected.
There are several species of endangered sea turtles that nest on northwest Florida beaches. Turtles looking for a place to nest should be left alone. When walking the beach, please avoid flagged or posted signs that indicate a sea turtle nest.
If you are interested in helping with sea turtle conservation, see our Volunteer Program tab for more information on how to sign-up.
Link to FWC Sea Turtle Page: http://myfwc.com/wildlifehabitats/managed/sea-turtles/
Kemp's Ridley Nesting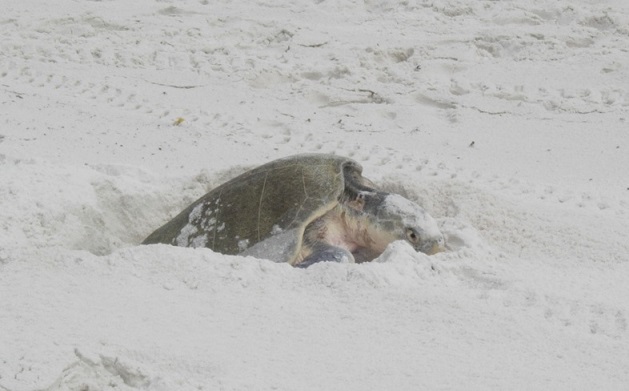 ---
Shore Birds
Many beach nesting birds are small, sand-colored, and their nests and eggs are extremely difficult to spot. If you notice birds behaving strangely (the wounded wing act, or dive-bombing you) give them more space because it's likely that a nest is nearby.
Snowy Plover Nest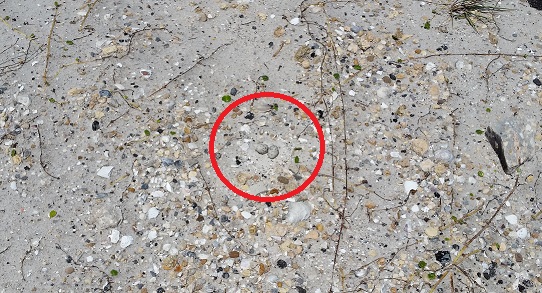 Least Turn Nest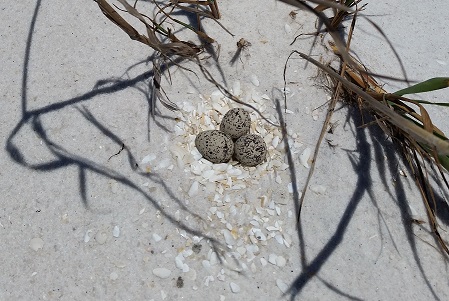 Link to FWC Bird Disturbance: http://myfwc.com/viewing/how/bird-disturbance/
---
Be safe on the beach
Florida is hot and humid in the summer, so all visitors should pack accordingly. Bring drinking water, sunblock, and towels to stay comfortable. Cool off in the water or under the showers if you feel yourself overheating.
Please remember to pack all garbage out with you, and deposit it in trash cans at the parking lots or pavilions.
Let's keep our beaches clean and beautiful.
When fishing from the beach, some animals may accidentally catch your hook.
You can call the FWC Wildlife Hotline for assistance: 888-404-3922