Hiking the Eglin Reservation
The Eglin reservation is proud to support the Florida National Scenic Trail (FNST). The FNST runs through the state of Florida from Big Cypress National Preserve to Fort Pickens on the Gulf Islands National Seashore. The Florida Trail Association (FTA) is a volunteer organization that manages and maintains the FNST. Sections located on the Eglin reservation are maintained by the local chapter of the FTA.
Trail users (hike originates within 49 miles of the Eglin reservation boundary) are required to purchase an Eglin permit (if camping a special camping permit also) to access the FNST or camp sites along the trail.
Thru-Hikers (hikers whose journey originates 50 + miles outside the Eglin boundary) need to contact Jackson Guard (850-882-4165 or 4166) for special permitting.
The FNST through Eglin is NOT continuous, but is broken into sections based on access and existing trails.
Daily mission closures may prevent thru-hikes on the Eglin reservation. Please check the PAM for daily closures:
During hunting seasons, sections of the FNST go through still/stalk hunted and dog hunted management units (Choctaw East (dog), Briar Creek East, Jackson North, Metts, Choctaw West (dog), East River). Please be aware of the possibility of encountering hunters along the trail. It is strongly suggested that during hunting seasons you wear highly visible clothing.
Check the Outdoor Recreation, Hunting and Freshwater Fishing Regulations for season dates (dates may vary between management unit).
Remember: the FNST is for foot-traffic ONLY.
---
Ean box turtles can be found walking through the forest. These turtles are slow paced, terrestrial, and more active after rains.
FNST Map
Please see our FNST map with the trail and Eglin Camping Areas.
(FNST camps are not identified on the map, but are listed below.)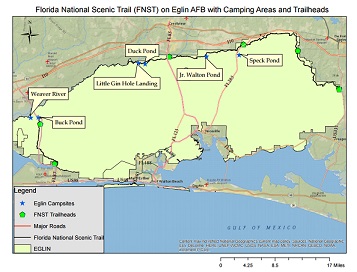 FNST Routes
Eglin East + Eglin North: US 331 to Shoal River/SR 85 Trailhead:
Trail begins at the Eglin Portal/US 331 Trailhead on US 331
Eglin Portal Camp 2.9 mi
Alaqua Camp 11.9 mi
Alaqua Trailhead 15.2 mi
Bullhide Camp 18.7 mi
RR 25.4 mi (an easy place to get off the trail as-needed)
Red Deer Camp 27.2 mi
SR 285 29.1 mi
Speck Pond Camp 31.4 mi
Jr. Walton Camp 37.6 mi
Pearl Camp 44.3 mi
Shoal River/SR 85 Trailhead on FL 85 N 45.2 mi
Cimarron Section (not officially part of the FNST): SR 85S to Yellow River:
There is NO bridge across the Yellow River on the Cimarron Section, and hikers should NOT attempt to ford the Yellow River.
Trail begins at Turkey Hen Trailhead (ford the stream)
This trailhead is not shown on the Cimarron Section Map, but cross FL 85 (with caution for traffic) to find it.
RR 211 3.8 mi
RR 610 (close to Duck Pond) 5.4 mi
Duck Pond Camp is located south on RR 610 .25 mi
RR 211 6.1 mi
Turkey Gobbler Creek Rd. 7.2 mi
Yellow River 8.8 mi (no thru-hike, trail ends)
Eglin West: Yellow River Trailhead to East Bay Trailhead
Trail begins at Yellow River/SR 87 Trailhead
Eglin West map appears to show the Trailhead further south of the start, but it is located at the start of the trail.
Buck Pond 2.4 mi
Weaver Creek 6.1 mi
SR 87 9.1 mi
Dean Creek 10.8 mi
Dean Creek Camp 11.2 mi
River Rd. Kiosk 12.4 mi
East Bay Trailhead 14.3 mi
---
Alaqua Creek
Bull Branch
Dean Creek
Pearl Creek
Portal
Red Deer
---
Eglin Camps near the FNST
Weaver River
Buck Pond
Little Gin Hole Landing
Duck Pond
Jr. Walton Pond
Speck Pond
---
For more information about camping at Eglin Camps, see our Camping page:
---
Sundew, a mysterious and carnivorous plant. Keep your eyes open on the trail and you might see some.
---
For more information about the Florida Trail Association and the FNST, visit the FTA website: Florida Trail Association