Eglin Special Opportunity Hunts
All special opportunity hunt applications are available starting 01 September. Applications can be obtained here at the Natural Resources Office or by clicking on the links below. Applications are due in the Natural Resource Office by COB on the date indicated on each application.
DO NOT FAX YOUR APPLICATION
​For additional information, contact the Eglin Natural Resources Office at (850) 882-4165 or 4166.
Eglin Special Opportunity Hunts


2018-2019

Special Hunt Name
Cost
Hunt Dates
Application
Guidelines
Hunt Map
7SFG Area
Archery Hunt *
$50.00

09-12 Nov

18-21 Jan

01-04 Feb

15-18 Feb

Guidelines

Hunt Map

Youth Hunt
Weekend

$10.00

12-13 Jan

N/A

N/A

N/A

Mobility Impaired
Hunt *

$25.00

02-03 Feb

Guidelines

Hunt Map

Youth Lottery
Hunt *

$40.00

09-10 Feb

Guidelines

Hunt Map

Youth Spring Turkey Hunt

free

10-11 Mar

N/A

N/A

N/A

Turkey Hunt *

$40.00

30 Mar - 31 Mar

13-14 Apr

Guidelines

Hunt Map

Wild

Hog
Dog Hunt (Spring)

$25.00

03-05 May

Guidelines

Hunt Map
* Participants will be selected by means of a drawing
# Zones may swap depending on mission activity the weekend of the hunt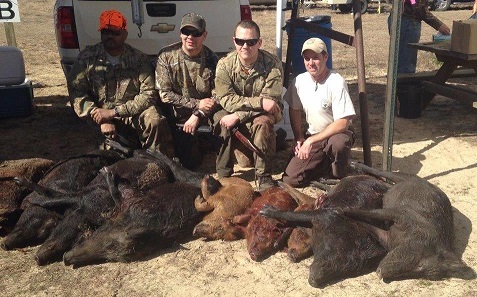 E-mail your application to: 96CEG.CEIEA.isportsman@us.af.mil